This store requires javascript to be enabled for some features to work correctly.
What is Sustainable Jewellery?
And why is it important?
What is sustainable jewellery?
Did you know that over $10b (£7.9b) worth of precious metals and over 10.5 million tonnes of clothes (in north America) are dumped in the ever growing mountain of waste every year? The fast-fashion jewellery industry isn't any better. Synthetic materials have changed the fast fashion industry as they prioritise increasing profits and consumption instead of the environmental and human health effect this has. 

When we think about fast fashion, we think about cheap, quick, and easy products that don't necessarily last a lifetime. Fast fashion jewellery is made from toxic chemicals, dangerous dyes, thousands of litres of water and a huge carbon footprint, just to name a few. Instead of the fast fashion industry trying to tackle these issues, we can potentially face long lasting environmental and social impacts worldwide. 
Sustainable jewellery means using materials and metals that can be traced back to the source, ensuring they have been produced ethically. It's all about having no negative impact on environment or the people that make it. 
WHY IS SUSTAINABLE JEWELLERY IMPORTANT?
To begin, the fast fashion industry has a bad reputation and are constantly accused of being environmentally irresponsible. That's why we wanted to bring light to sustainable jewellery as it has a lot to offer, that not a lot of people know about. Sustainable jewellery brands, like Asími Jewellery value the importance of staying kind to the planet and minimising waste by creating small batch jewellery using recycled metals and ethically sourced stones. By using recycled metals such as sterling silver or gold, this ensures there is less negative impact on the environment and the stones are conflict free.
HOW IS SUSTAINABLE JEWELLERY PRODUCED?
Producing sustainable jewellery can be more complicated than mass-produced jewellery. The first and most common way to create sustainable jewellery is by using recycled metals. Precious metals like silver and gold can be melted down and repurposed into other pieces of jewellery. An example of this is The Astra and Nova Necklace by Asími Jewellery. This necklace is handcrafted using their off cuts of sterling silver. It is melted down and then pave and flush set with cubic zirconia stones, with your choice of birth month stone, to create a beautiful necklace that can we worn and cherished for life. The best thing about using recycled precious metals is that it has the same quality as precious metals that have been newly mined. 
HOW TO FIND OUT WHETHER JEWELLERY IS SUSTAINABLE
It's so important to educate yourself on the jewellery you're purchasing and wearing. At the end of the day, we want to make a conscious decision as we don't want to purchase something that will leave a negative impact on the environment. 
In order to find out if your jewellery is sustainable, you have to look out for three things: Materials, manufacturing process, and chain of custody. It's good to know how your jewellery was made, with what and where materials have been sourced. Asími Jewellery is a transparent brand, they handcraft everything by hand in their small London studio, ensuring that they not only produce environmentally friendly jewellery, but their working environment is also eco-friendly, which you can read about their ethos and visions here.
TOP MATERIALS FOR ECO-FRIENDLY JEWELLERY?
Some of the best materials to use to create eco-friendly jewellery are the one's that are traceable, create a safe working environment and has a low carbon footprint. These are considered to be eco-friendly materials when purchasing eco-friendly jewellery.
Recycled sterling silver: This is an alternative to reduce the demand of mining. Sterling silver can be melted down, reformed and repurposed into jewellery or even sheet metal and wire. Recycled sterling silver also has the same qualities as newly mined silver. 
Gold: Gold is often associated with mining, child labor, and poor working conditions. Just like silver, recycled gold reduces the need for it to be mined making it a more ethical choice.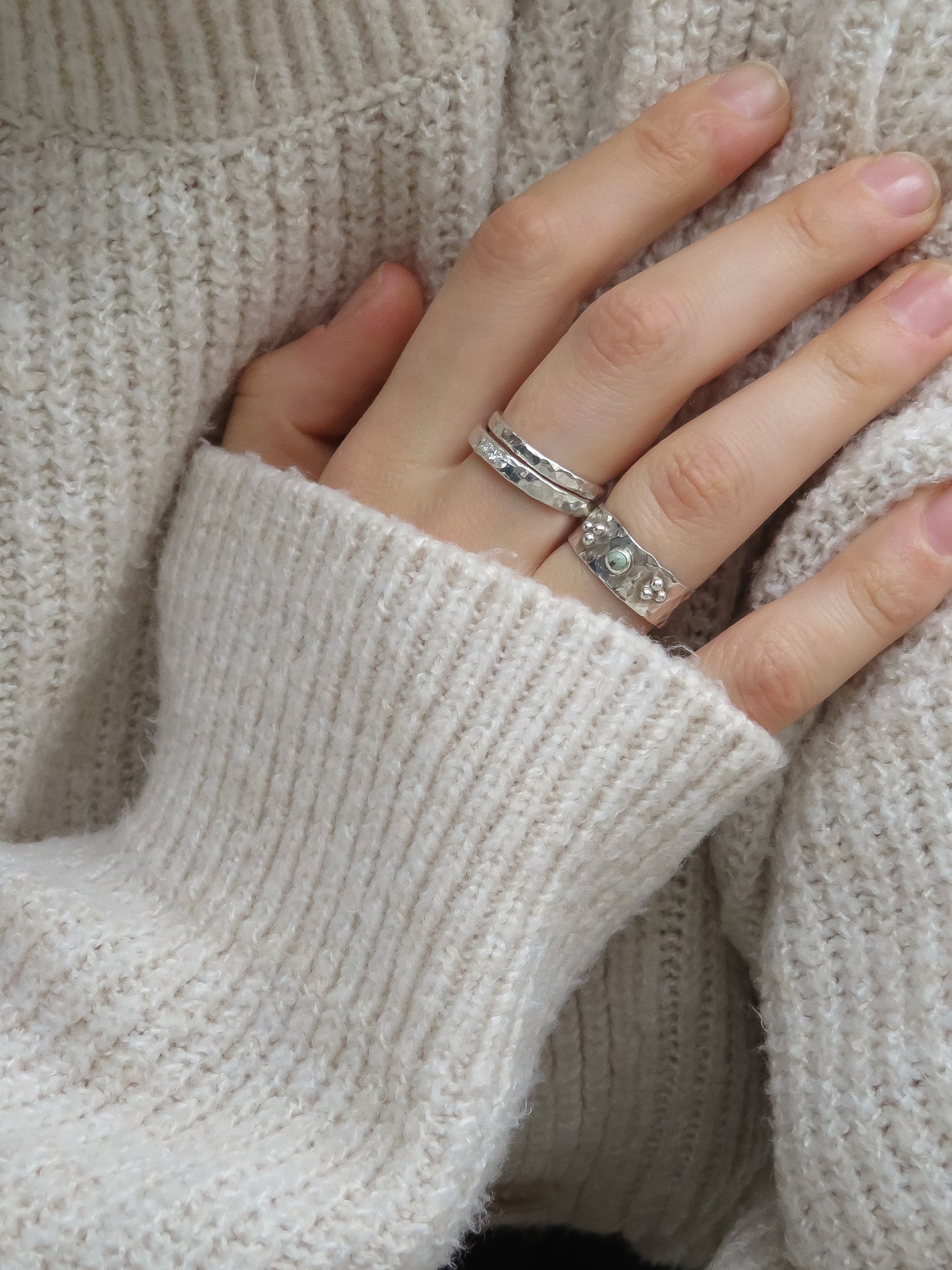 Conclusion
Overall, beautiful jewellery that you can wear to work, or for a night out, or a catch up with friends doesn't need to cost the Earth. Recycled precious metals such as silver and gold have the same qualities as newly mined silver and gold, making sustainable, handcrafted jewellery that lasts for life, the best option when spending your money. You can start your sustainable jewellery collection by clicking the link below and having a nosey of all the versatile sustainable jewellery that Asími Jewellery has to offer.
Shop sustainable jewellery
Shop Ethically Made Jewellery
Our Memoir
Your store hasn't published any blog posts yet. A blog can be used to talk about new product launches, tips, or other news you want to share with your customers. You can check out Shopify's ecommerce blog for inspiration and advice for your own store and blog.